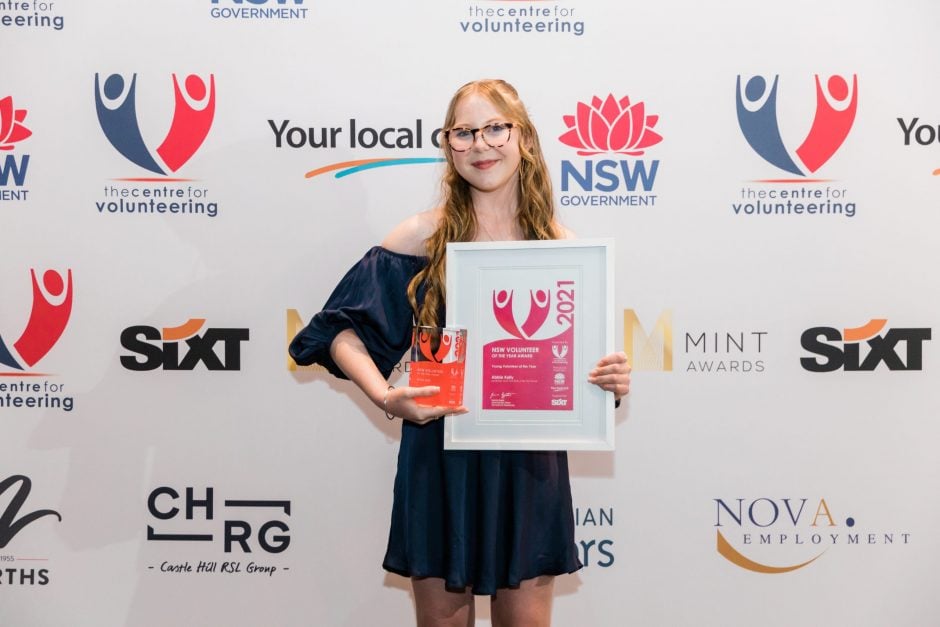 Since its inception in 2007, the NSW Volunteer of the Year Awards has continued to grow and expand its reach to all corners of the state, now celebrating its 17th year.
The Awards Honour Board serves as a lasting tribute, chronicling the exceptional individuals and groups who have been recognised over the years. This rich history reflects the vibrant community spirit and dedication that thrives in NSW.
Discover all our past winners and nominees, including images from the Gala Award celebrations, in the catalogue below. We invite you to explore the links below, delving into the inspiring stories that make the NSW Volunteer Awards a symbol of excellence and commitment.
2022 Awards
For more information on the winners, and all regional finalists, visit our 2022 Awards page.
2021 Awards
2021 NSW Young Volunteer of the Year
Abbie Kelly
2021 NSW Adult Volunteer of the Year
Sayeed Karimi
2021 NSW Senior Volunteer of the Year
Kay Ching-Kue and Helen Mears
2021 NSW Volunteer Team of the Year
South Western Sydney Local Health District Palliative Care COVID-19 team
2021 NSW Club Volunteer of the Year
John Rodd
2021 NSW Corporate Volunteer of the Year
Aristocrat Technologies
2021 NSW Excellence in Volunteer Management Award
Royal Rehab Volunteer Services
2021 NSW Volunteer of the Year Abbie Kelly
2020 Awards
2020 NSW Young Volunteer of the Year
Harpreet Kaur Dhillon
2020 NSW Adult Volunteer of the Year
Kim Hill
2020 NSW Senior Volunteer of the Year
Amelia Butler
2020 NSW Volunteer Team of the Year
Foodbank NSW & ACT Distribution Centre volunteers and the Mid-South Coast Wires volunteers
2020 NSW Corporate Volunteer of the Year
Andrew Bredin
2020 NSW Corporate Volunteer Team of the Year
Greater Charitable Foundation
2020 NSW Excellence in Volunteer Management Award
Kylie Elliott
2020 NSW Volunteer of the Year Kim Hill
2019 Awards
2019 NSW Young Volunteer of the Year
Sonia Sharma
2019 NSW Adult Volunteer of the Year
Robert Fitzgerald
2019 NSW Senior Volunteer of the Year
Alba Tohamy Kadous
2019 NSW Volunteer Team of the Year
Dignity Dishes
2019 NSW Corporate Volunteer of the Year
Vicki Thompson
2019 NSW Corporate Volunteer Team of the Year
Qantas Cabin Crew
2019 NSW Excellence in Volunteer Management Award
Oscar Mussons
2019 NSW Volunteer of the Year Robert Fitzgerald
2018 Awards
2018 NSW Young Volunteer of the Year
Aimee Caulfield
2018 NSW Adult Volunteer of the Year
Wendy Dalton
2018 NSW Senior Volunteer of the Year
George Tillett
2018 NSW Volunteer Team of the Year
Beyond Barbed Wire Volunteer Mentors
2018 NSW Corporate Volunteer of the Year
Gemma Marshall
2018 NSW Corporate Volunteer Team of the Year
Pfizer CARES Australia
2018 NSW Excellence in Volunteer Management Award
Colin Lott
2018 NSW Volunteer of the Year Wendy Dalton
2017 Awards
2017 NSW Young Volunteer of the Year
Tia Brennen
2017 NSW Adult Volunteer of the Year
Judith Barry
2017 NSW Senior Volunteer of the Year
Beverley Kerr
2017 NSW Volunteer Team of the Year
Armidale Learner Driver Mentor Program Team
2017 NSW Corporate Volunteer of the Year
Robyn de Szoeke
2017 NSW Corporate Volunteer Team of the Year
NRMA Outback Links
2017 NSW Excellence in Volunteer Management Award
Mary Leehane
2017 NSW Volunteer of the Year Beverley Kerr
2016 Awards
2016 NSW Student Volunteer of the Year
Holly Johnson
2016 NSW Youth Volunteer of the Year
Ben Matthews
2016 NSW Adult Volunteer of the Year
David Digges
2016 NSW Senior Volunteer of the Year
Sandra McDonald
2016 NSW Volunteer Team of the Year
Women in Prison Advocacy Network Volunteer Mentors
2016 NSW Corporate Volunteer of the Year
Chris Bond
2016 NSW Corporate Volunteer Team of the Year
Salesforce
2016 NSW Excellence in Volunteer Management Award
Royal Rehab
2016 Outstanding Contribution Award
Country Women's Association of NSW (CWA)
2016 Outstanding Contribution Award
NSW Rural Fire Service (RFS)
2016 Outstanding Contribution Award
NSW State Emergency Service (SES)
2016 NSW Volunteer of the Year David Digges
2015 Awards
2015 NSW Student Volunteer of the Year
Tegan Butts
2015 NSW Youth Volunteer of the Year
Joshua Osborne
2015 NSW Adult Volunteer of the Year
Mark Rushton
2015 NSW Senior Volunteer of the Year
Eleanor Blows
2015 NSW Volunteer Team of the Year
Sailors with disABILITIES / Winds of Change
2015 NSW Corporate Volunteer of the Year
Melissa Booth
2015 NSW Corporate Volunteer Team of the Year
The Atlassian Foundation
2015 NSW Excellence in Volunteer Management Award
DigiVol
2015 Lifetime Achievement Award
The Holocaust Survivor Volunteer Guides, Sydney Jewish Museum
2015 NSW Volunteer of the Year Mark Rushton
2014 Awards
2014 NSW Student Volunteer of the Year
Christopher Evans
2014 NSW Youth Volunteer of the Year
Emily Smith
2014 NSW Adult Volunteer of the Year
Karen Lindley
2014 NSW Senior Volunteer of the Year
David Abrahams
2014 NSW Volunteer Team of the Year
Broken Hill Women's Auxiliary R.F.D.S
2014 NSW Corporate Volunteer of the Year
Kate Boyle
2014 NSW Corporate Volunteer Team of the Year
Tradies' Volunteers
2014 NSW Excellence in Volunteer Management Award
SPARK
2014 NSW Volunteer of the Year David Abrahams
2013 Awards
2013 NSW Corporate Volunteer of the Year
Dominic Lynch
2013 NSW Highly Commended Corporate Volunteer of the Year
Ken Bellette
2013 NSW Corporate Volunteer Team of the Year
Emerge Volunteer Mentor Team of ANZ
2013 NSW Excellence in NFP Volunteer Management Award
Taronga Conservation Society Australia
2013 NSW Highly Commended Volunteer Team of the Year
Cootamundra Creative Arts and Cultural Centre Committee
2013 NSW Volunteer Team of the Year
Macarthur Zone RAFT Brigade
2013 NSW Highly Commended Youth Volunteer of the Year
Alexa Pelkowitz
2013 NSW Highly Commended Youth Volunteer of the Year
Andrew Horne
2013 NSW Youth Volunteer of the Year
Trent Thomas
2013 NSW Highly Commended Senior Volunteer of the Year
Basil Turner
2013 NSW Senior Volunteer of the Year
Dr Howard Ralph
2013 NSW Volunteer of the Year Kenneth Bolt
2012 Awards
2012 NSW Corporate Volunteer of the Year
Michael Cluff
2012 NSW Corporate Volunteer Team of the Year
Ausgrid Regional Employee Community Committee
2012 NSW Highly Commended Excellence in NFP Volunteer Management Award
Wendy Edmonds
2012 NSW Excellence in NFP Volunteer Management Award
Manning Support Services
2012 NSW Highly Commended Volunteer Team of the Year
Louise Moule
2012 NSW Volunteer Team of the Year
Carevan Albury
2012 NSW Highly Commended Youth Volunteer of the Year
Matthew Kirkham
2012 NSW Youth Volunteer of the Year
Michaela Collins
2012 NSW Highly Commended Senior Volunteer of the Year
Norma Palmer
2012 NSW Senior Volunteer of the Year
Megan Etheridge
2012 NSW Volunteer of the Year Andrew Heslop
2011 Awards
2011 NSW Corporate Volunteer of the Year
Richard High
2011 NSW Excellence in NFP Volunteer Management Award
Bathurst Information and Neighbourhood Centre (BINC)
2011 NSW Volunteer Team of the Year
Broadmeadow's Samaritans Friendship House
2011 NSW Youth Volunteer of the Year
Loki Ball
2011 NSW Senior Volunteer of the Year
Margaret Hardy
2011 NSW Volunteer of the Year Ralph Naden
2010 Awards
2010 NSW Employee Volunteer of the Year
Rodney Lowe
2010 NSW Volunteer Team of the Year
Warrawong Community Kitchen Lunch Volunteer Team
2010 NSW Youth Volunteer of the Year
Timothy Bayl
2010 NSW Senior Volunteer of the Year
Bill Phippen
2010 NSW Volunteer of the Year Graham Symes
2009 Awards
2009 NSW Employee Volunteer of the Year
Nigel Dearinger
2009 NSW Volunteer Team of the Year
Timehelp Holroyd Volunteer Team
2009 NSW Youth Volunteer of the Year
Hayden Zammit
2009 NSW Senior Volunteer of the Year
Thea Batterham
2009 NSW Volunteer of the Year Liz Mullinar AM
2008 Awards
2008 NSW Corporate Volunteer of the Year
Karen Carmichael
2008 NSW Youth Volunteer of the Year
Krystle Marsh
2008 NSW Senior Volunteer of the Year
Lorraine Clark
2008 NSW Volunteer of the Year Shu Fen Wang
2007 Awards
2007 NSW Corporate Volunteer of the Year
Amanda Grant
2007 NSW Youth Volunteer of the Year
Amanda Grant
2007 NSW Senior Volunteer of the Year
Laurie Smith
2007 NSW Volunteer of the Year Mary Mamour