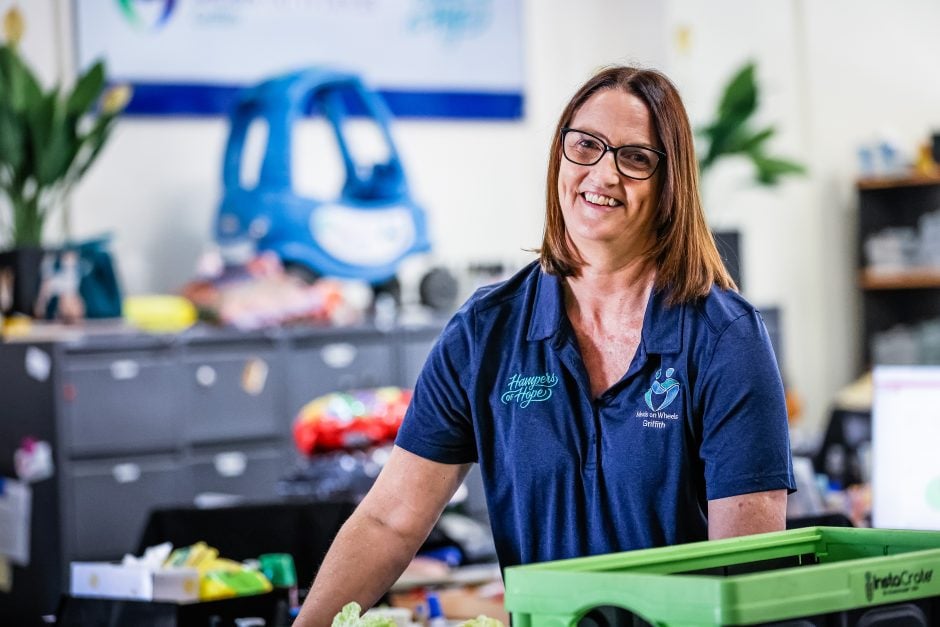 Image Credit - Salty Dingo Media, Hampers of Hope Griffith 2023
Overview
Certificate IV in Coordination of Volunteer Programs (CHC44015) is a specialist qualification designed for volunteer leaders, managers and coordinators.
The course includes a focus on foundational theory, practical tips, tools and industry best practice techniques for enriching volunteer worker experiences. Informed by the latest trends and requirements for coordinators and manager in Australia, this course supports participants to operate more effectively in challenging environments, often with limited resources.
Who it's for
We invite all volunteer coordinators, managers, leaders, or those looking to take the next step in their career path towards such a role, to apply.
Course requirements:
A minimum of year 12 education or equivalent training and experience.
Written and verbal English skills at a level capable of accurately collecting, analysing and reporting information.
Intermediate computer skills (including familiarity with using software to create and edit documents, ability to upload and download documents online).
Access to a computer with high speed internet access in order to access the materials on our e-learning platform.
Ability to conduct studies independently, including researching and interpreting information.
A good level of organisation and discipline as this is a fast paced course.
The support of a workplace or volunteer organisation to complete a number of the required tasks (including active supervision of volunteers, volunteer recruitments, appraisals and supports, access to policies and procedures, and conducting a simulated emergency evacuation).
If you have been working as a professional leaders of volunteers for over two years and already have the knowledge and skills in this area, speak to us about achieving recognition by obtaining this qualification.
How it works
Benefits
This course can assist you to:
Become more aware of current and emerging models of volunteering.
Adapt your practice to changing community priorities, demographics, and expectations.
Shape how your organisation understands and works with its volunteers.
Support your volunteers in ethical, safe and meaningful practice.
Units
This course comprises 11 units of competency – seven core units and four elective units.

Core units
| | |
| --- | --- |
| Use communication to build relationships | (CHCCOM002) |
| Manage and promote diversity | (CHCDIV003) |
| Work legally and ethically | (CHCLEG001) |
| Recruit, induct and support volunteers | (CHCVOL003) |
| Manage volunteer workforce development | (CHCVOL004) |
| Maintain work health and safety | (HLTWHS003) |
| Lead team effectiveness | (BSBLDR403) |
Elective units (choose 4)
| | |
| --- | --- |
| Deal with conflict | (PSPGOV411A) |
| Develop workplace communication strategies | (CHCCOM003) |
| Undertake project work | (BSBPMG522) |
| Manage people performance | (BSBMGT502) |
| Use social media for collaboration and engagement | (ICTWEB201) |
Each unit of competency includes:
A series of workshops recorded or live, covering the content and summary
Linked professional development sessions with industry experts on the topic area
Assessment support
Optional drop-in support workshops if required
Delivery
You can join the course from anywhere in Australia, and we accept enrolments throughout the year. Course materials, resources and assessment submissions are available through our e-learning platform, Moodle. This is combined with live workshops usually held on Tuesday afternoons.
As this training is accredited and nationally recognised, assessments and independent learning make up a large portion of the coursework.
Schedule and duration
We recommend dedicating a minimum of 11 to 12 hours per week to successfully complete this course, including reading, reflection and assessments. It is expected that students will take 15 to 18 months to complete the training.
The course is structured to fit in with your working environment, so many assessment activities will be drawn from your on-the-job activities and experiences. The key to success is to set a time each week to complete assignments.
Recognition of prior learning (RPL) is offered for candidates who can demonstrate skills and knowledge from significant on-the-job learning or other relevant qualifications.
Fees
Cert IV – Fully subsidised ($0 student fee) for eligible residents of NSW, funded by the NSW Government.
To be eligible, you'll need to be:
At least 15 years old;
No longer at school;
Living or working in NSW; and
An Australian citizen, Australian permanent resident, humanitarian visa holder or New Zealand citizen.
Learn more about Smart and Skilled Eligibility
Please note that at the time of enrolment, we will need to see evidence to confirm your eligibility for the subsidy. Check the Smart and Skilled program for more information.
| | |
| --- | --- |
| Non-member | $3,300 |
| Member | $2,640 (save 20%) |
| | |
| --- | --- |
| Fee Free Scholarship | $0 |
|  Smart and Skilled eligible students – Limited places NSW Fee Free initiative –  Enrol by December 2023 | $0 |
| Concession* | $240 |
| First qualification (no previous qualifications obtained by student and no concession or exemption) | $1,550 |
| Second or subsequent qualification (previous qualification obtained and no concession or exemption) | $1,820 |
*Additional conditions apply
Join
If you're unsure if this is the best fit for you or your career objectives, please contact us:
Mobile 0466 778 914
Please note the student fee is payable upfront. If over $1,500, it can be arranged in two instalments.
For more information or to discuss groups of 8 or more participants (which we can deliver in-house), contact:
Email training@volunteering.com.au
Phone 02 9261 3600
This training is subsidised by the NSW Government and delivered by the National School of Volunteer Management [RTO 90031]