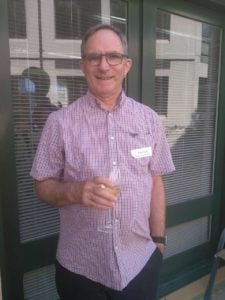 Why did you decide to volunteer?
Volunteering has always been important to me. It has been my goal to give something to the community to help make the world a better place for us all. I know that by volunteering I receive many wonderful gifts in return the chance to: meet others and give some support and assistance; learn from others; and, gain some wonderful friendships which are really valuable for my own well-being.
My parents were wonderful examples to me about giving back to the community. They supported my activities and were selfless in helping others. In some small way, I am honoring their example and hope to show others the importance of being involved in the community without an expectation of financial reward. Showing by example to my children and grandchildren is also important.
Why did you choose this particular organisation?
The Centre for Volunteering probably chose me. When I left full-time work, The Centre for Volunteering requested help with organising a program for a group of Korean interns who were visiting Sydney for seven weeks. I was lucky enough to go to South Korea on a study tour some years ago and received fantastic hospitality. It was one of those lucky opportunities to return a little of what I had received. How wonderful it was to be able to share something about our country and learn more about South Korea.
Following this program I was invited to become a Membership Ambassador and joined the Membership and Client Services team. This has given me the opportunity to promote volunteering with members, young people and the broader community. I hope I am spreading the good word about volunteering. Working with our team at the Centre has been rewarding and stimulating in many different ways.
What do you enjoy most about volunteering?
Coming to The Centre for Volunteering gets me out of home on a Wednesday and challenges and stimulates me each time. The satisfaction of knowing I have helped our members in some way and promoted volunteering is a rewarding experience. I also enjoy the friendship gained from being part of a team of enthusiastic volunteers and The Centre staff. This is one of the best aspects of volunteering as part of an organisation.
I have great pleasure in telling people about my role at The Centre for Volunteering. I hope it reflects the values and personal goals which are important to the way I live my life.