Orana NSW Volunteer of the Year Awards winners recognised
Dubbo local, Barbaria O'Brien, has been named the 2023 Orana Volunteer of the Year in today's Regional Ceremony at Dubbo Golf Club on Wiradjuri Country.
Celebrated alongside her were category winners Zaineb Fawad, National Association for Loss & Grief and countless nominees for their tireless service to their community.
2023 NSW Volunteer of the Year Award recipients for the Orana NSW region are:
"I am immensely proud of the dedication and commitment to community that we see each year from volunteers across the state...The NSW Volunteer of the Year Awards shine a light on these selfless efforts. Congratulations to today's award recipients."
The Hon. Jodie Harrison MP, NSW Minister with responsibility for Volunteering
Adult Volunteer of the Year – Zaineb Fawad
A member of the AMEP Volunteer Tutor Program for five years, Zaineb became a Volunteer Tutor as a way to connect with her new community after migrating from Pakistan.
In her role, she supports other new migrants and refugees with their English Language, providing them with pathways to be included, employed, and to pursue further study and training in their new community.
Senior Volunteer of the Year – Barbara O'Brien
Barbara has been a diligent helper with the CWA Terramungamine Branch, playing an instrumental role in the 100-year centenary of the CWA of NSW as she organised local celebrations and recognised the achievements of her organisation.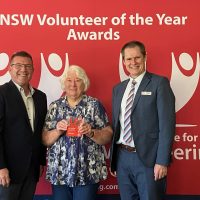 Volunteer Team of the Year – National Association for Loss & Grief (NSW)
The Grief Support Volunteers with the National Association for Loss & Grief undergo specialised training so that they can make a difference in the community. They play a vital role in listening, supporting, and understanding those who you are grieving, as they help them find a new normal.
The tragedy and stress of recent years highlights more than ever the importance of their work, as they combat stress, loneliness, mental health struggles and more.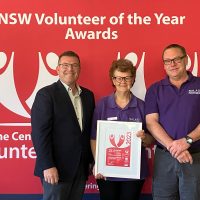 Finalists for the awards are announced at 25 Volunteer of the Year regional award ceremonies throughout NSW and are invited to the Gala State Ceremony for the announcement of the 2023 NSW Volunteer of the Year at the Gala Ceremony on Thursday 7 December in Sydney.
The 2023 NSW Volunteer of the Year Awards are supported by principal partners the NSW Department of Communities and Justice and ClubsNSW, which represents the state's 1,100 not-for-profit clubs.