Volunteers win warm reception in the Mid-Western Sydney Volunteer of the Year Awards ceremony.
Afghani community worker and local youth leader, Nargis Karimi, has been named the 2023 NSW Mid-Western Sydney Volunteer of the Year for her dedicated support of newly settled migrants, refugees and asylum seekers across the region.
Celebrated in the Regional Award Ceremony at Burwood, Karimi accepted her Award alongside category winners Diane Lyons, Andy Serafin and the Impact & Patient Programs volunteers at Canteen.
This Ceremony was held on the Country of the Wangal Peoples of the Eora Nation.
2023 NSW Volunteer of the Year Award recipients for the Mid Western Sydney region are:

"Volunteers from across Sydney's Inner West give their time and energy to make their community a better place. They help build healthy and well-connected communities across the area. Their tireless work helps support people across health, education, sporting and community sectors. Our awards recognise their work and give us the chance to say thank you."
Gemma Rygate, CEO of The Centre for Volunteering
Youth Volunteer of the Year - Nargis Karimi, Australian Afghan Hassanian Youth Association
Nargis Karimi is the youth coordinator at the Australian Afghan Hassanian Youth Association where she coordinates the activities of volunteers supporting newly settled migrants, refugees and asylum seekers. She has supported projects for hundreds of young people including swimming programs, youth camps, martial arts lessons, homework support, tutoring and Dari language school.
Her volunteering helps to Increase confidence, wellbeing, self-esteem, education and mental health of young Afghani people.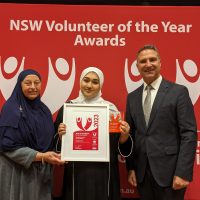 Adult Volunteer of the Year – Diane Lyons, Share the Dignity
Diane Lyons gives her time for Share the Dignity, supporting major campaigns that ensure women and girls in need have access to period products and other essential sanitary items. She collects feminine hygiene products and other essential items like shampoo and toothpaste that are donated by the public and distributes them to partner charities for people in need.
She coordinates volunteers, provides managerial and administrative support and other volunteering tasks to help make a difference to women and girls who are experiencing or at risk of homelessness, domestic violence, or poverty
Senior Volunteer of the Year – Andy Serafin, St Luke's Anglican Opportunity Shop
Andy Serafin has given his time managing the St Luke's Anglican Opportunity Shop for the past 15 years where he manages 20 volunteers, staff rosters, stock, cash and banking, and rubbish removal.
His steadfast support, passion and pride in the shop helps to raise money for vital services such as a local food pantry, prisoner welfare; and sustainable development projects such as the Al-Ahli Gender and Nutrition in Gaza Project; the Myanmar Wash Project; and the PNG Literacy and Numeracy Project.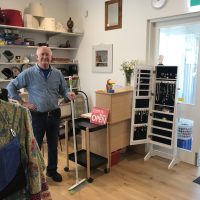 Volunteer Team of the Year – Canteen - Impact & Patient Programs
The Canteen Impact & Patient Program volunteers support Canteen researchers who work to better understand the experiences and needs of young people impacted by cancer. The six volunteer team members give their time one day a week supporting research work such as environmental scans and literature reviews, collection and analysis of data, helping to plan and co-design workshops and with academic publications and presentations.
Their work ensures vital research and learnings are shared with the research community and other clinical services.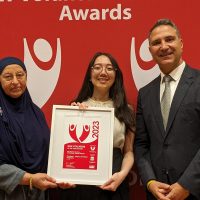 Finalists for the awards are announced at 25 Volunteer of the Year regional award ceremonies throughout NSW and are invited to the Gala State Ceremony for the announcement of the 2023 NSW Volunteer of the Year at the Gala Ceremony on 5 December in Sydney.
The 2023 NSW Volunteer of the Year Awards are supported by principal partners the NSW Department of Communities and Justice and ClubsNSW, which represents the state's 1,100 not-for-profit clubs.