Our virtual volunteer celebrations headed to Western Sydney today for the 2020 NSW Volunteer of the Year Awards – and we were greeted with so many wonderful stories of community service and giving.
People like Young Volunteer of the Year recipient Samuel Fleetwood who has been serving food and leading other volunteers at Mama Lana's Community Foundation for the past five years.
Ron Kelly and the entire team of volunteers at the Foodbank Distribution centre have picked, packed and dispatched millions of tonnes of food to turn into meals and hampers for people in need, while the relentless volunteering efforts of Mark Hutchings has helped upskill hundreds of St John Ambulance trainers and volunteers so vital first aid can be provided to communities throughout NSW.
The 2020 NSW Volunteer of the Year for the Sydney Outer West region is Mark Hutchings from St John Ambulance NSW.
2020 NSW Volunteer of the Year Award recipients for Sydney's Outer West region are:
Young Volunteer of the Year – Samuel Fleetwood from Cranebrook
For the past five years, 22 year-old Samuel Fleetwood has been serving food to people without a home, suffering financial pressure or other personal trauma at Penrith charity Mama Lana's. He is now a team leader at the not for profit community service centre and leads its COVID-19 planning so it can continue to safely operate and support people in the region.
Adult Volunteer of the Year – Mark Hutchings from St Clair
Mark Hutchings has volunteered for thousands of hours over the past 29 years for first aid provider St John Ambulance NSW, providing vital first aid and leadership training. He has earned multiple achievements including twice being acknowledged as St John Ambulance NSW Instructor of the Year.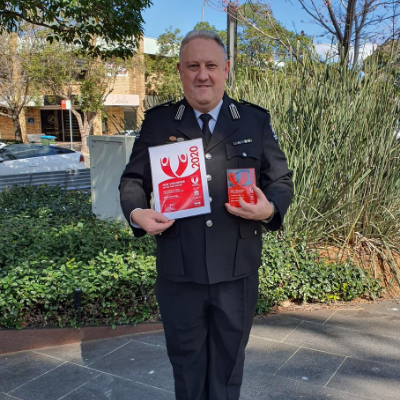 Senior Volunteer of the Year – Ron Kelly from Hebersham
Foodbank volunteer Ron Kelly is amazing at logistics, making sure the millions of kilograms of food is safely picked, packed and dispatched to tens of thousands families in need. He has earned his volunteering stripes over five years of service at the Foodbank Distribution Centre.
Volunteer Team of the Year – The Foodbank Distribution Centre Volunteers
The 230 team members from the Foodbank Distribution Centre Volunteers collectively perform a herculean task each week. They help turn 11 million kilograms of rescued food into the equivalent of 400,000 meals each year for families throughout NSW. They have faced a huge increase in demand over the past 12 months,  having provided 800 pallets of donations for bushfire impacted communities, 15,000 hampers for drought affected regions and another 15,000 vulnerable people restricted by COVID-19.
Regional finalists for the awards are announced at 25 ceremonies throughout NSW and are invited to the Gala State Ceremony for the announcement of the 2020 NSW Volunteer of the Year.
The 2020 NSW Volunteer of the Year Awards are supported by principal partners the NSW Department of Communities and Justice and ClubsNSW, which represents the state's 1,400 not-for-profit clubs.