What does the new strategy encompass?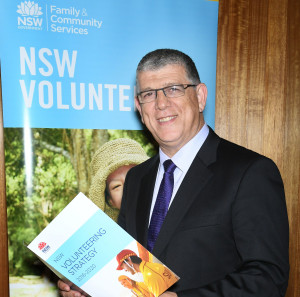 On May 9 Minister for Disability Services, and the Minister for Ageing, John Ajaka launched the NSW Volunteering Strategy for 2016 – 2020. It builds on the original strategy that was developed in 2012.
The strategy was based on the outcomes from consultations with over 2,200 people, including people actively volunteering, people who do not currently volunteer, and community organisations, businesses and government.
"Volunteers are the lifeblood of our community. The generous and selfless efforts of our more than 2 million volunteers deeply enrich our community," Mr Ajaka said.
"A key focus of the NSW Volunteer Strategy is making it easier than ever for people to volunteer. We are investing in new and better ways of connecting people who want to make a real difference with organisations who need their support."
Six priority actions in the new Strategy
There are six priority actions under the NSW Volunteering Strategy 2016-2020:
Expand participation in community life through volunteering
Create digital media avenues to support volunteering
Develop a mainstream media campaign and local marketing strategies to promote volunteering
Design and develop new volunteering options
Build capacity in volunteer organisations to innovate and deliver best-practice volunteer management
Enhance programs to recognise the positive contribution of volunteers.
Part of the strategy would see a new volunteer recruitment website developed that will enable volunteers to find opportunities in their local communities, and support organisations to advertise volunteering roles. Further, a new mainstream media campaign will launch to recruit more people to volunteer and help them navigate their way to new opportunities.
The Strategy will also expand and enhance the successful Statement of Principles for the Recognition of Volunteers, which promotes dignity and respect for 800,000 volunteers in NSW. It will also focus on volunteer recognition with increased support for the NSW Volunteer of the Year Awards and the Premier's Volunteer Recognition Program.
For more details, download a copy of the NSW Volunteering Strategy 2016-2020.