This month, we shine the light on Riding for the Disabled NSW Tall Timbers Centre?and spoke to their administrator, Kerry Souter, about their organisation.
What does Riding for the Disabled NSW (RDANSW) do?
RDANSW Tall Timbers Centre provides therapeutic and recreational horse riding, equestrian activities and life skills programs for people with disabilities of all ages. Horse riding is a unique form of physical exercise, which can therapeutically assist people with a wide range of disabilities. It not only helps with co-ordination, balance, muscle development and fitness but develops trust, confidence, communication and leadership skills.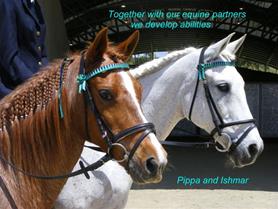 Who makes up the team at RDANSW?
We have a full-time Horse manager and 3 part-time staff members; Administrator, Staff Coach & Life Skills program co-ordinator. On top of this, we have around 80 regular Volunteer; ranging from the age of 12 through to retirees.
How do volunteers help in your organisation?
In a variety of ways. They help with the horses, coaching, leading in class, walking beside a rider, and assisting with the life skills program. As well, there is always gardening, property maintenance, cleaning and admin to be done!
How do you recruit and train your volunteers?
Every year we hold a recruitment stand at our local shopping centre. We also have supportive local newspapers that regularly run stories about our Centre to help attract volunteers.
We run group-training and induction sessions as well as individual inductions and 'on the job' training. When new volunteers join, they are initially given an experienced buddy while they are learning the RDA way.
How does Riding for the Disabled reward and retain their volunteers?
We like to think that the social aspect of volunteering with our centre helps to keep our volunteers returning. We encourage our volunteers to bring lunch, stay for the free coffee or tea and chat. We often have people bringing in cake for their birthdays for morning tea as well! We also encourage and maintain contact during the holiday breaks with lunches at these times.
Each year we hold a Thank you lunch at Christmas where everyone gets a gift, we award Service badges for their years of service and run our own Volunteer awards.
However, we keep in mind and recognise the individual small things such as putting the bins out each week. Everyone is appreciated for the small things they contribute to the overall running of the centre.
What is the role of the volunteer manager in your organisation?
Volunteer management is undertaken by Staff Coach and myself (the Administrator). Together we maintain the necessary number of volunteers for the programs to run smoothly and make sure that the volunteers are happy and safe. Working with Children Checks, paperwork and its maintenance need to be processed.
Tell us something about your journey on the way to your current position.
I consider my role to be a once in a lifetime; I began volunteering on a regular basis as a teenager with another Centre, where I was lucky to have very dedicated and knowledgeable mentors.
After working for 10 years in the finance industry, the opportunity at RDA(NSW) Tall Timbers Centre came up. I was lucky to have a supportive partner who didn't even blink twice when I said I wanted to trade in my corporate life for a horsey life!
What are the good things about your position?
Meeting new people every year, sharing their journey as volunteers but also being part of our Client's journeys which is why we are here. We meet some amazing people who give their time for the benefit of others.
What are the challenges?
Juggling people and tasks and making sure that you are meeting the needs of everyone.
Where do you get your ideas and inspiration?
I mainly get ideas and inspiration from volunteers themselves; in most cases conversations around the lunch table. Knowing the clients that are on the waiting list and their needs – trying to accommodate them means you need to think outside the square.
Local media can also be inspiring – knowing what is going on in the local community and anything that your organisation to do to assist locals or where you can work on events to increase your organisation's exposure.
What message would you give to other people starting similar roles?
Be flexible, don't judge new volunteers, volunteers come from all walks of life and with all sorts of life experiences, each one has a story and qualities that you can work with.