This month, we caught up with Diana Piper from Cerebral Palsy Alliance to learn more about the organisation & their volunteer program!
1.     What is the Cerebral Palsy Alliance?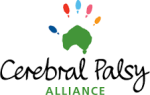 Cerebral Palsy Alliance (CPA) provides high-quality family-centred therapies, life skills programs, equipment and support for 5,0000 clients – people who are living with cerebral palsy and their families. Our priority is to support people living with cerebral palsy to lead an independent and inclusive life. We also invest in research – helping to find a cure for cerebral palsy and discovering the best treatments for those living with cerebral palsy
2. Tell us about the CPA volunteers
We have over 650 active individual volunteers, and 600-700 corporate individuals who volunteer at our organisation.
Their average age hovers around the mid 40's, however youth volunteering is certainly on the increase with many university students looking to broaden their experience through volunteering and our renewed strategy for student engagement. Whilst our gender ratio varies a little from region to region, we have an average split of 30% male and 70% female volunteers.
3.     What is the role of volunteers in CPA?
Volunteers help develop our capacity and capability, ultimately to support our clients. Capacity is about volunteers supporting programs (sometimes running programs) and paid staff, to stretch the available resources so that we can provide more services and therefore have more impact. Capability is about volunteers bringing their skills to build our organisational capability – so that we can learn how to provide better services and be better built for sustainability.
This can range from supporting weekly programs such as Hydrotherapy, one on one assistance, helping out at special, one-off events or harnessing volunteer's own professional skills around the organisation.
4. How do you recruit and train your volunteers?
Recruiting is mainly done through advertising on our own website.  We find this delivers a more dedicated type of volunteer who is genuinely interested in joining our organisation; through Seek Volunteers and through our partnerships with corporates.
Volunteers attend a Volunteer Induction when they commence, to ensure they are well informed about the organisation, working with people with a disability, and what it means to volunteer with us. Our team also makes a point of regular check-ins on an informal level, to see how volunteers are travelling, and whether they are content in their current role.
As a registered training organisation, CPA volunteers may attend training courses if they are relevant to their volunteer role. In addition to the Volunteer Induction, volunteers are allocated a Volunteer Supervisor who is responsible for their on-site training on a day-to-day basis.
5.     How does the organisation reward and retain its volunteers?
CPA puts considerable focus on reward and recognition of volunteers, acknowledging that while not the primary motivator for many, it does go a long way to making volunteers feel valued, therefore improving retention rates. It can be as simple as inviting them to a recognition event, to sending a hand written birthday card, or supporting our volunteer supervisors to seek opportunities to genuinely say, 'Thank you'.
However, volunteers are formally recognised for 1, 5, 10, 15, 20 and more than 20 years of service with a certificate and appropriate gift. In addition, we hold 2 major Volunteer Recognition events – one during National Volunteers Week in May at our Allambie Heights campus, and the other in early December close to International Volunteers Day. This is our main event – a movie night held in the city and is very popular and well attended. We also support smaller sites to recognise their volunteers during these times of the year with special morning teas with lots of baking to thank our volunteers.
During the year we nominate several volunteers for the NSW Volunteer of the Year Awards, and any other community awards which are appropriate. We find our volunteers really appreciate this gesture.
5. What is your role within your organisation?
The Volunteer Manager oversees the design, development and delivery of all aspects of the Volunteer and Corporate Engagement strategy and operations. The role supports the General Manager of People and Culture by managing the organisation's volunteer resource to help achieve the Strategic Plan for the organisation. They oversee the volunteer coordinators and administration assistant, manage the budget and report to the Executive and Board.
6. Tell us something about your journey to your current position.
Having started my working life in publishing, I moved across to the not for profit sector over 8 years ago, co-ordinating volunteers at The Royal Institute for Deaf and Blind Children at North Rocks. Here I managed predominantly on-site volunteers and corporate groups. On joining Cerebral Palsy Alliance I became part of the Volunteers and Corporate Engagement team managing volunteers over a number of sites, including individual volunteers and corporate groups. Today my work is mainly centred around skilled volunteering, and specialised volunteer programs.
7. What are the good things about your position?
Volunteers are by their very nature generous, kind, happy and often very inspiring people. It is a rare thing to have a role which brings you into contact with such people on a day to day basis. In addition to this, I have the privilege of knowing that by supporting our clients and staff with volunteers, our team is making a real difference. Whether it be supporting a client in the gym or during an art program, or simply putting a smile on someone?s face, or by helping raise funds – our volunteers make a tangible impact on our organisation every day – what more could you want from a job?
8. What are the challenges?
There are always some roles which are hard to fill and it's disappointing when we can't fulfil a request from our staff. It's also difficult turning well-intentioned volunteers away – we cannot take on everyone who contacts us, for example if there is no role available for them, or indeed if they are simply not suitable for a particular role.
But the biggest challenge is always retention – balancing the effort, time and money involved in on-boarding a volunteer with the value they can bring to the organisation.  We must always be aware of this equation and be constantly conscious of recruiting the right volunteer for a particular role. This ensures happy volunteers who stay longer.
9.     What message would you give to other people starting similar volunteer management roles?
Probably to choose your organisation carefully – make sure your own personal values align with those of the organisation. Networking is very helpful when you are starting out. Volunteering is generally a collaborative sector, with much sharing of information and ideas.