Why did you decide to Volunteer?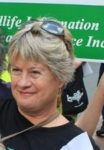 At a young age I started rescuing animals that were abandoned in or around our local school. I would organise a whip around of the kids' pocket money and we would take the dog to the RSPCA, along with a donation, to ensure it would be cared for – unless someone was allowed to take it home.
I then got involved in various programs through school such as the Duke of Edinburgh?s Award where I discovered ways of helping the community in need. These included the St Johns Ambulance Cadet Programme, volunteering at sporting events, aged care homes, city parades on the sidelines rendering first aid and maternity hospital assisting and caring for babies in the nursery section. I also joined my local Salvation Army Youth Programme and the Army Reserve.
From there on for many years, I volunteered with a variety of groups in the community (all whilst I was in full time employment) including the RSPCA, Animal Welfare League and the Cat Protection Opportunity Shop.
I also volunteered for several years with Sailability, where I was also able to gain my boat licence. Volunteering with this organisation gave me such inspiration to see people normally wheel chair dependent be a free spirit out on the water.  They just lived for their summer weekends.
Other organisations I have volunteered for include the NSW Coast Guard and the SES, where I gained lots of valuable life skills and long term friendships.
Why did you choose The Centre for Volunteering?
I recently retired and I missed working: the cameraderie, mental stimulation and keeping my skills alive. I discovered the SEEK Volunteering site and started searching all the positions available when I stumbled upon the Receptionist role for The Centre for Volunteering. The role sounded unique and interesting.
What do you enjoy most about your role and volunteering?
I enjoy having somewhere to belong on certain days of the week when volunteering at The Centre for Volunteering and it gives me structure, friendship and keeps my skills updated. I also volunteer for WIRES.
I have also recently volunteered to assist in administration roles for Vets Beyond Borders. After travelling through 3rd world countries I was devastated to see the appalling animal neglect, so upon my return I actively searched for an organisation what I could assist.
I also currently volunteer with the Naval Historical Society at Garden Island. I enjoy learning about history and educating the Public through this organisation.
In the future I would like to volunteer with Mercy Ships for a period of time and work with the homeless. It is just about finding the time. Who said retirement was boring?