Latest Figures Reveal Corporate Donations Rising
Australian companies are becoming more generous with the new GivingLarge Report revealing investment in community causes has jumped with corporate donations rising by 11 per cent.
A comprehensive financial analysis of Australia's top companies found $945 million was invested into philanthropic efforts in 2018 from our top 50 givers – up $90 million from 2017.
Now in its second year, the GivingLarge Report shines a light on Australia's most generous corporations. It ranks organisations by their percentage contributions of profits or earnings.
In 2018, Wesfarmers was again the largest giver when it came to contributions from pre-tax profits. The retail giant, which owns Kmart, Target and Bunnings, donated $87 million in 2018, when it also owned Coles, since demerged onto a separate company. This represents 2.5 per cent of the company's 2018 profit.
Wesfarmers also topped the list in 2017, their community contributions going towards causes like medical research and wellbeing, education initiatives and community initiatives.
On the rebound from last year's Royal Commission, it turns out the big four banks reached deeper into their pockets contributing an additional 28 per cent or $39 million in 2018.
Report author and Strive Philanthropy Founder Jarrod Miles said the generosity of Australia's leading companies was encouraging.
"Driving social change is an increasing priority for big business across Australia," he said.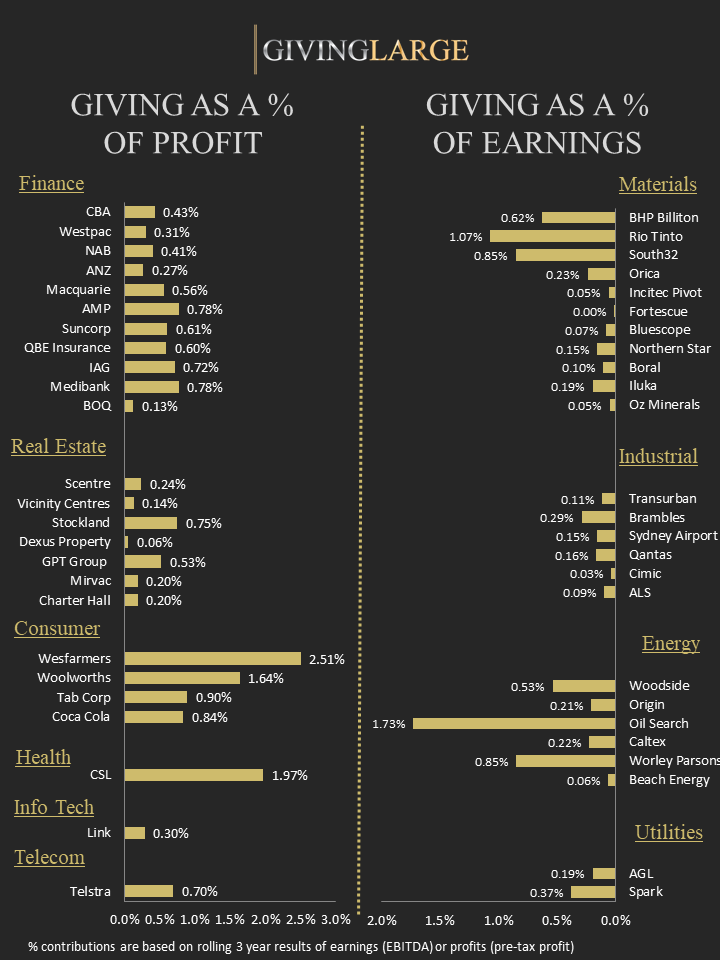 Download a copy of the complete GivingLarge Report here.