From Penrith to Blacktown and Seven Hills to Greystanes, our ceremony at St Marys celebrated the remarkable volunteers across Western Sydney.
Today, we recognised the powerful impact of community leaders like our Senior Volunteer of the Year, Helen Strasser from Hills Community Aid. Her persistence and dedication transformed the lives of 1,200 people who accessed critical food and medical support during the pandemic. 
In an equally impressive feat, Mohammad Raza Sohailee from Western Sydney Uni took home the title of Young Volunteer of the Year for supporting his peers experiencing social isolation.
We also recognised the incredible volunteer team at the Foodbank Distribution Warehouse for diligently providing nutritious meals to thousands of people and families in need.
And lastly, the Outer Western Sydney Volunteer of the Year was awarded to our Adult winner, Harinder Kaur. As the Harman Foundation co-founder, she was celebrated for her advocacy in supporting and empowering disadvantaged women and families from South Asian communities.
2023 NSW Volunteer of the Year Award recipients for the Outer Western Sydney region are:
"I am immensely proud of the dedication and commitment to community that we see each year from volunteers across the state. The NSW Volunteer of the Year Awards shine a light on these selfless efforts. Congratulations to today's award recipients."
Jodie Harrison, NSW Minister with responsibility for Volunteering
Youth Volunteer of the Year - Mohammad Raz Sohailee, Western Sydney University
University student and former refugee Mohammad Raza Sohailee volunteers with the Mates Mentoring Program and other groups, helping fellow students connect and avoid the negative impacts of isolation.
He helps new students build a sense of belonging and community, by providing a safe person to chat with, ask questions of and gain knowledge. His volunteering as mental health champion also helps to foster education, wellbeing and sustainability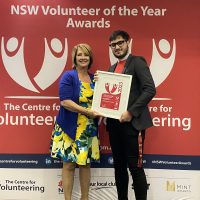 Adult Volunteer of the Year – Harinder Kaur, Harman Foundation
Harinder Kaur has given her time across three decades to support disadvantaged women and families from South Asian communities as they battle grief, discrimination and poverty.
She co-founded the Harman Foundation charity; a refuge called Her House; and established a Sikh Chaplaincy project across six hospitals.
Her volunteering and advocacy have empowered CALD communities and people facing domestic and family separation, incarceration, homelessness and the negative impacts of mental health.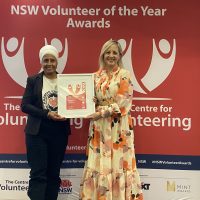 Senior Volunteer of the Year – Helen Strasser, Hills Community Aid
Helen Strasser volunteers at the Hills Community Aid Emergency Relief program, helping hundreds of community members receive support with essential expenses.
Her initiative and drive during COVID restrictions helped to maintain services to people experiencing financial hardship. She went the extra mile by also home calling clients to offer assistance, emailing food vouchers, and assisting with chemist payments and referrals.
It is estimated that Helen has supported 1,200 clients with assessments over the past three years across the Blacktown, Parramatta, Cumberland, Hawkesbury and Hills regions.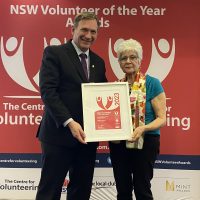 Volunteer Team of the Year – Foodbank Warehouse Volunteer Team
The 100 strong team of Foodbank Warehouse volunteers have contributed over 5,200 days of volunteering to ensure food is safely distributed to people and families throughout the region and NSW.
They give their time to help people experiencing food insecurity due to cost-of-living pressures and social issues, at the same time helping them to combat mental health issues and social stigmas.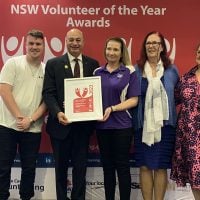 Finalists for the awards are announced at 25 Volunteer of the Year regional award ceremonies throughout NSW and are invited to the Gala State Ceremony for the announcement of the 2023 NSW Volunteer of the Year.
The 2023 NSW Volunteer of the Year Awards are supported by principal partners the NSW Department of Communities and Justice and ClubsNSW, which represents the state's 1,100 not-for-profit clubs.