Volunteers win warm reception on the Northern Beaches Volunteer of the Year Awards ceremony
The first day of Spring saw an extra warm reception for volunteers at the Northern Beaches 2023 NSW Volunteer of the Year Awards at Dee Why RSL this afternoon. There were so many fantastic stories of community service and giving across all fields of life.
People like Northern Beaches Volunteer of the Year Judy Kelly who at 87 still travels up to 2 hours to keep in touch with her aged care companions. Also, a special mention to other award winners high school student and Code Club volunteer Max Forbes, netball administrator and umpire Cathy Hurditch and the invaluable volunteer team at Bear Cottage's Children's Hospice.
2023 NSW Volunteer of the Year Award recipients for the Northern Beaches region are:
"I am immensely proud of the dedication and commitment to community that we see each year from volunteers across the state. The NSW Volunteer of the Year Awards shine a light on these selfless efforts. Congratulations to today's award recipients."
Jodie Harrison, NSW Minister with responsibility for Volunteering
Youth Volunteer of the Year - Maxwell Forbes, Willoughby City Library
High school student Max Forbes is a Code Club volunteer at Willoughby City Library where he helps children in a free after school program to learn about coding, computer literacy and problem solving.
Max helps children achieve their learning goals and increases their confidence to solve problems. He also assists staff to set up and pack up in the library.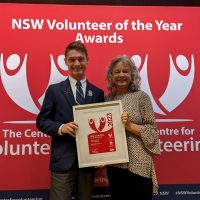 Adult Volunteer of the Year – Cathy Hurditch, Manly Warringah Netball Association
Cathy Hurditch gives her time on and off the netball court as volunteer administrator, umpire and treasurer, ensuring hundreds of young netballers can compete, get active and build friendships.
She volunteers as the Honorary Secretary for the Manly Warringah Netball Association and the President and Umpires Convenor at Curl Curl Sports Netball Club. She also finds time to umpire up to three to four games a weekend, as well as acting as a mentor to junior referees.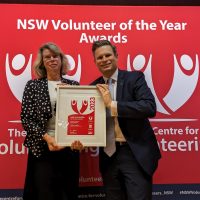 Senior Volunteer of the Year – Judy Kelly, CatholicCare diocese of Broken Bay
Judy Kelly gives her time visiting elderly aged care residents and dementia patients, breaking down isolation, building connections and friendships; and improving quality of life.
She is a volunteer with the CatholicCare Diocese of Broken Bay Community Visitor's Scheme; however, she has also volunteered for the Red Cross Telecross service and supporting people in palliative care.
At 87 years-old, Judy continues to visit her aged care companions, often travelling for more than 45 minutes each way to ensure she maintains strong bonds and connections.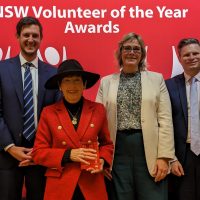 Volunteer Team of the Year – Bear Cottage Volunteer Team
The volunteer team at Bear Cottage Children's Hospice provide a host of non-clinical support for children and families referred there for respite or end of life care.
The 111 volunteer team members range in age from 18 to 80 and provide help with administration, housekeeping, cooking, gardening, with play, art and photography, dog walking and other services.
Their support is crucial in helping families with simple tasks or support that have a very large emotional impact at a difficult period in their lives.
Finalists for the awards are announced at 25 Volunteer of the Year regional award ceremonies throughout NSW and are invited to the Gala State Ceremony for the announcement of the 2023 NSW Volunteer of the Year at the Gala Ceremony on 5 December in Sydney.
The 2023 NSW Volunteer of the Year Awards are supported by principal partners the NSW Department of Communities and Justice and ClubsNSW, which represents the state's 1,100 not-for-profit clubs.