The positive impact of volunteers in Sydney's north west is a heartbeat felt across the entire community. Giving selflessly of their time, volunteers are the community backbone helping and supporting to those they assist. Volunteering is more than helping out, it's about caring, understanding, and contributing to help others. Their work enriches lives and strengthens the fabric of our society.
Today, we gathered to say thank you for that amazing effort at the North Western Sydney awards ceremony for the 2023 NSW Volunteer of the Year Awards. Meeting and learning from so many inspiring volunteers, whose stories of dedication was a wonderful experience
A special mention to today's award recipients: Story Factory creative workshop volunteer Jade Pinar and local Vinnies legend Noela Algie. Additionally, we honour advocate for domestic violence support and prevention, Mercedes Durante, and the long-standing volunteer committee members from the Hills Relay for Life.
2023 NSW Volunteer of the Year Award recipients for the North West Sydney region are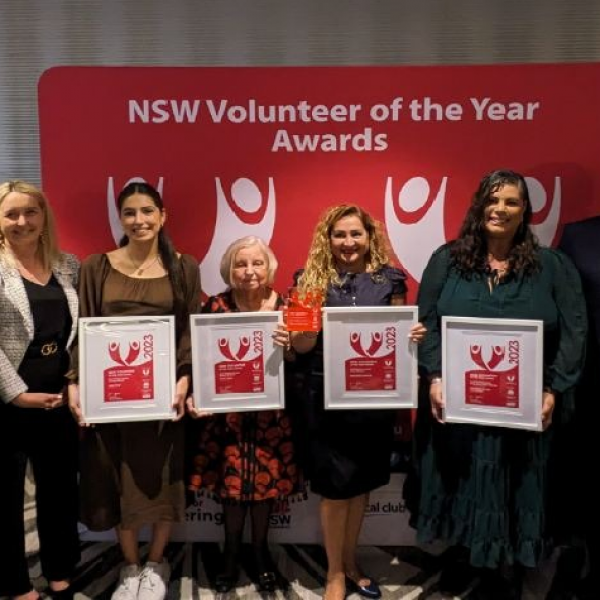 "I am immensely proud of the dedication and commitment to community that we see each year from volunteers across the state. The NSW Volunteer of the Year Awards shine a light on these selfless efforts. Congratulations to today's award recipients"
Jodie Harrison, NSW Minister with responsibility for Volunteering
Young Volunteer of the Year – Jade Pinar from West Pennant Hills
Jade has been volunteering at the Story Factory's Creative Writing workshops at Telopea Public School for more than a year, helping the organisation to achieve its goals of improving literacy and supporting students from under-resourced backgrounds. She provides one-on-one tailored writing support for students, helping them build literacy skills, confidence and find their voice. She also provides extra support like typing up student work and wrapping up books written by young authors.
The creative writing workshops have many benefits for students including increasing their confidence, and helping them find their voice. This results in our long-term goals of improving literacy and helping our students from under-resourced backgrounds find their voice. She has done this for so many of our students, while also making them excited to write and share their ideas.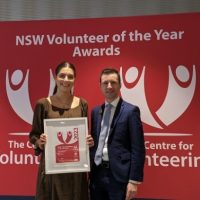 Adult Volunteer of the Year – Mercedes Durante from North Kellyville
Mercedes Durante is the Adult Volunteer of the Year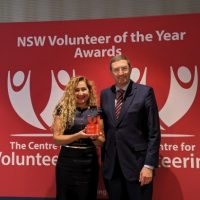 Senior Volunteer of the Year – Noela Algie from Baulkham Hills
Noela is a volunteering veteran with more 12 years of service and dedication to her local Vinnies retail op shop. She gives her time supporting day-to-day operations such as pricing, sorting donations and customer service, as well as referring customers to other services such as emergency relief centres, welfare agencies and community programs. She helps to recruit, train and mentor new volunteers across multiple Vinnies stores.
Noela has made and continues to make a positive impact on others, modelling the standards of customer service. Through Noela's good works, her achievements include building a good rapport with customers in the local community and has been a key person in maintaining Vinnies good name in providing service to the local community. There is often a time that Noela is a listening ear to person in crisis and she has been able to provide comfort and assistance in a graceful and dignified manner.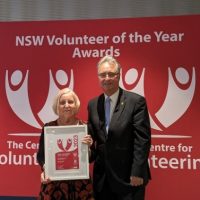 Volunteer Team of the Year – Hills Relay For Life Committee
Many of the 18 volunteers running the Hills Relay for Life event have been at the committee since its first event was held 22 years ago. With the dedication, determination and the support of the community, Hills Relay for Life Committee have raised just under $6 Million for Cancer Council NSW, which has helped fund essential cancer research, provide support, prevention and advocacy services to those affected by Cancer.
With Hills RFL 2023 held on Saturday 20th May with a target of $250,000 the Hills Committee worked hard and tirelessly alongside the community to exceed their target and raise over $320,000, $70,000 above target. For Hills the planning is for the entire 12 months, they have developed so many relationships with local businesses, one being Castle Towers, where the committee set up a gift wrapping station for all special occasions, some days working up to 12 hours a day, this runs over a 2-3 week period, they hold High Teas, Trivia nights, a Gala event, Survivor & Carers events, you will often see them in their relay shirts walking the local shops raising awareness, all this takes up so much of their time and most of them have a full time job. They ALL work together towards one goal, a Cancer Free future.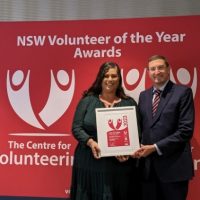 Finalists for the awards are announced at 25 Volunteer of the Year regional award ceremonies throughout NSW and are invited to the Gala State Ceremony for the announcement of the 2023 NSW Volunteer of the Year.
The 2023 NSW Volunteer of the Year Awards are supported by principal partners the NSW Department of Communities and Justice and ClubsNSW, which represents the state's 1,100 not-for-profit clubs.