Women's shelter supporter named 2023 New England and Northern Inland Volunteer of the Year Awards ceremony
Armidale Women's Shelter management committee volunteer Juliet Kaberry has been named the 2023 NSW New England and Northern Inland Volunteer of the Year for her support of women and their families across the New England and Northern Inland region
2023 NSW Volunteer of the Year Award recipients for the New England & Northern Inland region are:
"Volunteers from across the New England and Northern Inland region give their time and energy to help make their local community a better place. They help build healthy and well-connected communities. Their tireless work helps support people across health, education, sporting and community sectors. Our awards recognise their work and give us the chance to say thank you."
Gemma Rygate, CEO of The Centre for Volunteering
Youth Volunteer of the Year - Wylie Wright, The Armidale School
Student Wylie Wright has given his time to cook meals for people at the Armidale Women's Refuge, Armidale Youth Refuge and people experiencing homelessness. He leads a team of his fellow students to prepare around 100 meals a week which are delivered to community organisations by the Armidale Neighbourhood Centre.
When the project commenced, only 15 meals per week were prepared. Since the beginning 2023 this has grown to providing 84-106 meals per week, all year round as demand has increased.
Volunteering has provided Wylie with a greater sense of community and self. Being from the land he knows that community is vital to his family. So his giving back to those beyond the farming community has resulted in empathy for those he does not know.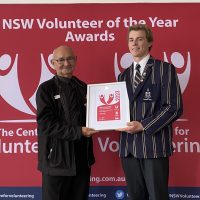 Adult Volunteer of the Year – Juliet Kaberry, Women's Shelter Armidale
Juliet is part of the volunteer management committee at the Armidale Women's Shelter, helping to provide specialised support for women and their families who are in crisis.
Her volunteer work over the past decade has helped to expand the centre's services for its clients who may be experiencing homelessness or domestic and family violence. Her volunteer leadership is helping vulnerable women in the region to define and reshape their future
Senior Volunteer of the Year – Cecily Wicks, Cancer Council NSW
Cecily Wicks is the welcoming face at the Cancer Council NSW Inala House at Tamworth Base Hospital, where she supports patients from regional and remote communities.
She gives her time at the centre where she registers patients, organises orientation and helps to link them with other services. Her value to patients and their families also extends to listening, reassuring, and understanding their personal journey while staying at Inala House.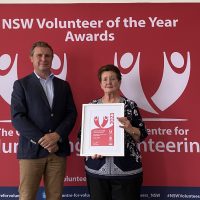 Volunteer Team of the Year – Armidale Sanctuary Volunteer Co-Ordination
The volunteer coordinators support and manage a team of 200 volunteers at the Armidale Sanctuary Humanitarian Settlement Service. They meet new volunteers, introduce them to families and match them to required services. They manage the volunteer database ensuring the service is compliant.
The humanitarian service helps refugees to settle in Armidale and is currently supporting more than 650 Ezidi refugees with English language skills, distributing donations of household goods and clothing, transport to medical appointments, sporting or community events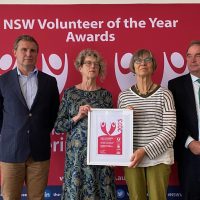 Finalists for the awards are announced at 25 Volunteer of the Year regional award ceremonies throughout NSW and are invited to the Gala State Ceremony for the announcement of the 2023 NSW Volunteer of the Year at the Gala Ceremony on 5 December in Sydney.
The 2023 NSW Volunteer of the Year Awards are supported by principal partners the NSW Department of Communities and Justice and ClubsNSW, which represents the state's 1,100 not-for-profit clubs.