The finalists for the 2023 Volunteer Management Recognition program were announced today, with people of all professions, from corporate teams to volunteer engagement leaders, being celebrated for their dedication and hard work.
Held at the iconic NSW Parliament House on Gadigal Country, this special ceremony marks the first before the State Ceremony for the 2023 NSW Volunteer of the Year Awards on Thursday 7 December. There, they will join hundreds of volunteering superstars from across the state to hear the announcement of the 2023 NSW Volunteer of the Year.
The #NSWVolunteerAwards are an annual program run by The Centre for Volunteering and supported by principal partners the NSW Department of Communities and Justice and ClubsNSW.
2023 Volunteer Management Recognition Finalists
Ann-Maria Martin from Survivors R Us
Maria is the Founder, Public Officer, and Chairwoman of Survivor's R Us (SRU), a Domestic Violence, Homelessness, Unemployment support service. Under Maria's leadership, they have offered services providing food, furniture and essential basic items to over 70,000 people.
Tahera Nassrat from Afghan Peace Foundation
Tahera's current focus as the CEO of the Afghan Peace Foundation, is on helping refugees settle and find employment in Australia. Through her work with the foundation, she has supported 500 refugees. She connects newly arrived refugees with no English skills, computer skills, driving licenses and working experience to employment, helps with accommodation, and settling into Australia.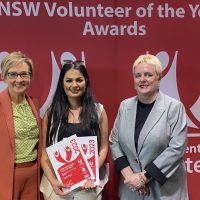 Raise Foundation Volunteer Engagement Team
The Raise Foundation Volunteer Engagement Team support over 2,000 volunteer mentors who give their time and talent to mentor young people who are at risk of poor wellbeing or disengagement in over 100 high schools across the metro and regional areas of NSW. The team's role is to recruit volunteers from corporate partners, universities and local communities; organisational onboarding, and confirmation into a school mentoring program. The team demonstrate commitment to best practice in volunteer management at all levels.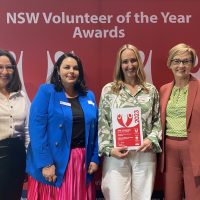 2023 Not-For-Profit Voluntary Governance
SCHF Gold Committee Co-Chairs
Linda and Joshua Penn are the Co-Chairs for the Sydney Children's Hospitals Foundation's flagship event, the Gold Dinner. They lead a volunteer committee of 12 for one of Australia's most prestigious and successful fundraising gala events. They successfully lead the committee with budgetary analysis, accountability, and guidance. They champion SCHF and have broken the Australian record for charity dinners and the global record for children's hospital charity galas.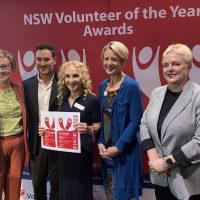 Toowoon Bay SLSC Executive Team
The team of 5 work tirelessly on the continuous consolidation of administrative best practice standards across the Club and all it's activities. They work to enhance the Club's long-term healthy viability through fiscal responsibility and security, Nipper program redesign and developed, and effective and up-to-date rescue services.
Built Team
The 178 volunteers from Built play a crucial and invaluable role in assisting clients experiencing hardship. Within the ReLove warehouse, they dedicate their time, skills and resources by organising the inventory to resemble a department store, so volunteers can guide and support clients to select furniture and household items. The Built team are involved in the delivery process by transporting the items to the clients' homes. This work contributes significantly to ReLove being able to divert approximately 2,500 tonnes of furniture from landfill annually.
Macquarie Corporate Volunteer Team
The Macquarie Corporate team have donated hundreds of hours' of volunteering to the Cerebral Palsy Alliance, supporting their Sydney Christmas Parties and STEPember program. The Macquarie Group also supports the Remarkable Program with venues and mentors. This program is innovative startup accelerator, committed to developing technology startups that positively impact people with disability, with technology users. The team supports several other events throughout the year including Buddy Days at Packforce and Krazy Kosci Klimb.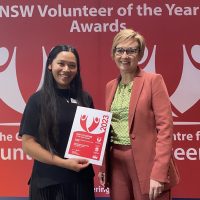 Continuing Professional Development
Certificate IV in Coordination of Volunteer Programs (CHC44015) is a specialist qualification designed for volunteer leaders, managers and coordinators. The course includes a focus on foundational theory, practical tips, tools and industry best practice techniques for enriching volunteer worker experiences.
Melissa Green, Legacy Club Services
Melissa has been recognised through the Continuing Professional Development program.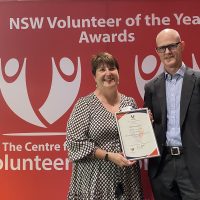 Matthew Smallwood, The Junction Neighbourhood Centre
Melissa has been recognised through the Continuing Professional Development program.