Communities in Liverpool and Fairfield have had a tough time in recent years. Which is why we were so happy to celebrate local volunteers who do such important work in the region at the Western Sydney ceremony for the 2022 NSW Volunteer of the Year Awards.
We met St John Ambulance volunteer Brooke Carrier who despite her young age has racked up an impressive 15 years at the community first aid group. We also heard about the inspiring work of Turbans 4 Australia founder Amar Singh whose determination and drive to help people in need is making a difference right across the state.
2022 NSW Volunteer of the Year Award recipients for the Western Sydney region:
Young Volunteer of the Year – Brooke Carrier from Mt Pritchard
Despite her young age, Brooke Carrier has been volunteering with St John NSW for over 15 years. She began as a St John junior, before moving up to the cadet division and into roles such as cadet corporal and superintendent of the Bonnyrigg High School cadet division.
Now a hub leader looking after six divisions, Brooke is a former St John NSW Cadet of the Year and has given more than 1,660 documented hours providing community first aid and health care support.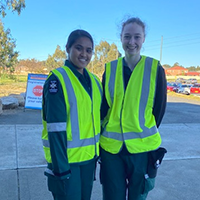 Adult Volunteer of the Year – Amar Singh from Prestons
Amar founded the community-based charity Turbans 4 Australia in 2015 to make Australia a better place, especially for disadvantaged people who are affected by emergencies and natural disasters.
He has been volunteering since 2000 with the Liverpool Lions Club and at the Sydney Olympics and lnvictus Games. He oversees 200 volunteers who assist people in need as well as first responders to emergencies and natural disasters, farmers suffering from drought, flood impacted communities and people affected by COVID-19, especially in Western Sydney.
He recently established the Community Pantry in Clyde, which provides more than 500 families with food and care items following the COVID-19 pandemic. A similar facility was set up in Lismore where 250 pallets of food staples, groceries and personal care items have been provided to people impacted by the recent floods.
He also stages numerous Turban Fest events throughout Australia, where members of the public can have a turban tied on their head while learning about the Sikh community.
Amar still heads up Turbans 4 Australia, is president of the Liverpool Lions, board member of the charitable Scanlons Foundation and voluntary director of Green & Gold Charity Logistics.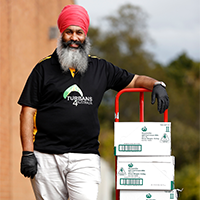 Regional finalists for the awards are announced at 25 ceremonies throughout NSW and are invited to the Gala State Ceremony for the announcement of the 2022 NSW Volunteer of the Year.
The 2022 NSW Volunteer of the Year Awards are supported by principal partners the NSW Department of Communities and Justice and ClubsNSW, which represents the state's 1,400 not-for-profit clubs.