Today we celebrated the awesome volunteering efforts of people and teams across Sydney's Upper North Shore for the 2022 NSW Volunteer of the Year Awards.
It was great to be back – in person – to hear the many wonderful stories of volunteers working to build heathier and happier communities across the region.
Special congratulations to our award winners young St John Ambulance volunteer Tiffany Willis, the tireless bushland restoration volunteer Barry Lees, and the inspirational team from AASHA.
2022 NSW Volunteer of the Year Award recipients for the Upper North Shore region:
Young Volunteer of the Year – Tiffany Willis from Mount Colah
Tiffany has been volunteering with St John Ambulance NSW since 2019 as a cadet with the Hornsby Division. Soon after joining, she put her hand up to also re-establish the cadet division at North Rocks.
Tiffany has given more than 1,060 hours to the health and well-being of the local community, using the knowledge she gained serving with the Royal Flying Doctor Service, NSW Ambulance and NSW RFS.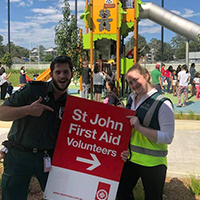 Senior Volunteer of the Year – Barry Lees from Galston
Barry has been a leading advocate and volunteer for bushland conservation in the Hornsby and North West region of Sydney for more than 20 years. His work involves bush regeneration, weed eradication, planting native plants and providing advice to landholders.
He also logs water quality data, applies for grant funding, manages volunteers and attends and speaks at events. He is the mainstay at the Hornsby Herbarium and continues to maintain its exceptional collection of local plant specimens.
Barry is a founding member of the Still Creek Landcare Group, a volunteer with Streamwatch, the Hawkesbury River Floating Landcare group and the Native Plant Society.
He also led the tireless volunteer work to restore important local bushland at Carrs Bush in Galston's Fagan Park.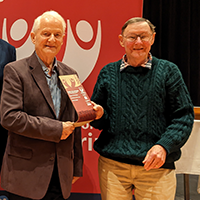 Volunteer Team of the Year – Team AASHA volunteers
The 10 volunteer team members at AASHA have supported more than 6,600 people living with dementia and mental health issues via their online pandemic support programs.
The team provides monthly activities such as yoga, Bollywood music, dance, health talks, games and quizzes at seniors' meetings. They also hold networking and socialising sessions at morning teas and other events sessions.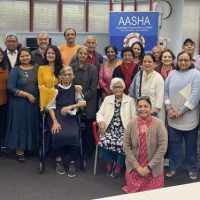 The 2022 NSW Volunteer of the Year Awards are supported by principal partners the NSW Department of Communities and Justice and ClubsNSW, which represents the state's 1,400 not-for-profit clubs.