Volunteers from Sydney's east keep digging deep to support their community in so many ways. Today we said thank you for that incredible effort at our regional ceremony for the 2022 NSW Volunteer of the Year Awards.
A huge congratulations goes out to 2022 Sydney City and Eastern Suburbs Volunteer of the Year, Clementine Hartson from ProjectKindness, and award winners Jacqueline Bodill, the founder of the HSC Resource Survival Kit, Benevolent Society Greenwood Cottage volunteer Martin Spiteri and the team from OZHarvest Market at Waterloo.
2022 NSW Volunteer of the Year Award recipients for the Sydney City and Eastern Suburbs region:
Young Volunteer of the Year – Jacqueline Bodill from Ultimo
Jacqueline established the HSC Resource Survival Kit three years ago to help give HSC students free online access to study notes and tips. Jacqueline, who grew up near Lismore, established the service in late 2020 after noticing HSC students did not have adequate access to online study support during COVID.
More than 10,000 students have used the service to access 12,000 resources across 40 HSC subjects.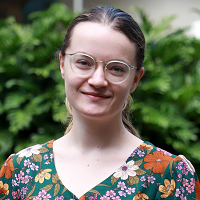 Adult Volunteer of the Year – Clementine Hartson from Kensington
Clementine established ProjectKindness four year ago to improve the lives of vulnerable people who often go without the basic necessities of life. She connects people in need with other community services, volunteers, and donations such as food, clothing, household items, school supplies and books.
Since it began, ProjectKindness has helped to collect more than 1,700 food hampers, 420 boxes of nappies, 250 clothing and toy hampers and made 540 outreach calls.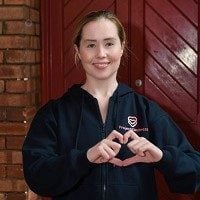 Senior Volunteer of the Year – Martin Spiteri from Rockdale
Martin has volunteered at the Benevolent Society's Greenwood Cottage for the past two decades, driving buses, cleaning up after meals and events and helping residents with all sorts of activities.
He provides friendship and emotional and physical support to residents and families two days week.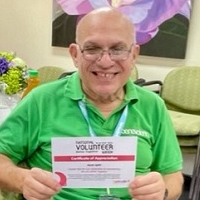 Volunteer Team of the Year – OzHarvest Waterloo Market Volunteer Team
The 100 OzHarvest Waterloo Market volunteers provide free meals and food to around 350 people for five days a week. Up to 20 volunteers staff the service each day, making coffee, tea and hampers for customers as well as providing healthy meal suggestions. They help provide essential support for people experiencing homelessness, young families, people with chronic illnesses and elderly people in need.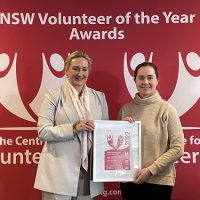 Regional finalists for the awards are announced at 25 ceremonies throughout NSW and are invited to the Gala State Ceremony for the announcement of the 2022 NSW Volunteer of the Year.
The 2022 NSW Volunteer of the Year Awards are supported by principal partners the NSW Department of Communities and Justice and ClubsNSW, which represents the state's 1,400 not-for-profit clubs.