The NSW South Coast is home to amazing volunteers who keep their communities strong and connected. Today we said thank you at the South Coast regional ceremony for the 2022 NSW Volunteer of the Year Awards at the Catalina Country Club in Batmans Bay.
Congratulations to our award winners: community sport volunteer Kylie Scott from the Bermagui Breakers AFL club and the team of emergency volunteers from the Ulladulla SES Unit.
A special congratulations to the 2022 South Coast Volunteer of the Year, Daryl Dobson from the Pambula Rotary Club. There aren't many places or people on the Sapphire Coast that Daryl hasn't helped.
2022 NSW Volunteer of the Year Award recipients for the South Coast region:
Adult Volunteer of the Year – Kylie Scott from Bermagui
Kylie has been volunteering with the Bermagui Breakers AFL club for more than a dozen years and there's nothing that she doesn't turn her hand to so that players and their families can enjoy game day.
She is the club secretary, treasurer, canteen and merchandise manager. She gives her time from 7am to close on game day and cleans three days a week to support team training.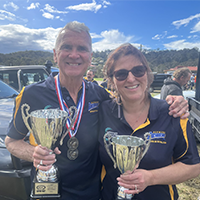 Senior Volunteer of the Year – Daryl Dobson from Merimbula
The impact of Daryl Dobson's volunteering can be seen right across the far South Coast region. He is a volunteer veteran of 20 years with the Pambula Rotary Club and has helped to design and build walkways and access points, toilets and amenity blocks and a community hall.
Daryl also staffs the local BBQ, organises fundraising events and maintains the local cemetery.
Much of his recent volunteering has centred around supporting people and communities impacted by the recent bushfires. He has helped to install water tanks, septic systems, sheds and toilet facilities at dozens of properties.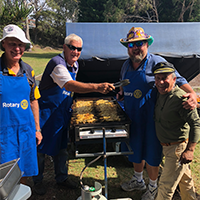 Volunteer Team of the Year – NSW SES Ulladulla
The 70 volunteers from the NSW SES Ulladulla branch have been out on the frontline during storms, bushfires and floods to protect and support the local community. The team has completed more than 1,000 requests for assistance over the past three years, including almost 400 requests this year.
They have helped to repair storm damaged properties, cleared trees and roads and assisted other emergency first responders during major events or times of need.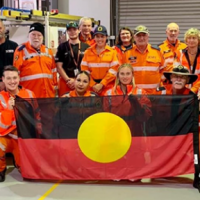 Regional finalists for the awards are announced at 25 ceremonies throughout NSW and are invited to the Gala State Ceremony for the announcement of the 2022 NSW Volunteer of the Year.
The 2022 NSW Volunteer of the Year Awards are supported by principal partners the NSW Department of Communities and Justice and ClubsNSW, which represents the state's 1,400 not-for-profit clubs.