Today we said thank you to volunteers across the Orana region who are building healthy and well-connected communities across the region
A huge congratulations to our 2022 Orana Volunteer of the Year Ian Wray from Vinnies who never turns away people in need, as well as our other amazing volunteer award winners ten-year-old Izabelle Kelly, Crops for Cancer fundraiser Claire Jenkins and the team from U3A Dubbo Chapter.
Our thoughts also go out to the many volunteers supporting communities throughout western NSW throughout the devastating floods. We can't wait to see all our award finalists again at our Gala State Ceremony.
2022 NSW Volunteer of the Year Award recipients for the Orana region:
Young Volunteer of the Year – Izabelle Kelly from Dubbo
Ten-year-old Izabelle Kelly has led numerous volunteer projects that have impacted her local community and beyond.
At the age of seven, she convinced her local primary school class to help make more than 100 joey pouches for animals impacted by the Warrumbungle bushfires. More recently, she handmade 200 cards to send to isolated elderly residents during the COVID-19 restrictions and helped her class to pack and send 75 pencil cases filled with stationery to South Lismore Public School children impacted by floods.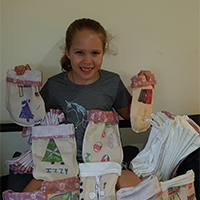 Adult Volunteer of the Year – Claire Jenkins from Trangie
Claire is a prolific volunteer and fundraiser for the NSW Cancer Council Stars of Dubbo event. Her volunteering focused on the Crops for Cancer initiative around Warren and Trangie, where local farmers were encouraged to give part of their grain harvest to help raise more than $30,000 for cancer treatment, research and patient support.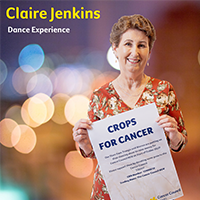 Senior Volunteer of the Year – Ian Wray from Dubbo
St Vincent de Paul volunteer Ian Wray gives his time in so many ways to help people in need across the Dubbo community. He works in Vinnies' care and support team, but also gives his time on the after-hours on-call service as a driver and coordinates all furniture donations and Foodbank orders for food parcel donations
He mows lawns and completes maintenance work for a newly settled refugee as well as organising immigration support. Ian has also been a volunteer bus driver and a volunteer with the Dubbo Rescue Squad. His latest volunteer project involves sourcing emergency accommodation and storage for belongings for homeless people living in the city.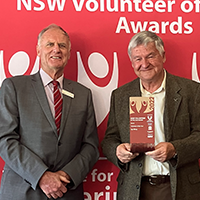 Volunteer Team of the Year – U3A Dubbo Chapter Committee
The 11 volunteers with the U3A Dubbo Chapter Committee ensure that their 400 members can access 30 classes and activities that help break down isolation and build social cohesion.
They manage finances, enrolments, class timetables, rooms and new memberships as well as online classes during COVID-19 restrictions.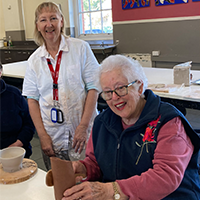 Regional finalists for the awards are announced at 25 ceremonies throughout NSW and are invited to the Gala State Ceremony for the announcement of the 2022 NSW Volunteer of the Year.
The 2022 NSW Volunteer of the Year Awards are supported by principal partners the NSW Department of Communities and Justice and ClubsNSW, which represents the state's 1,400 not-for-profit clubs.