Volunteers across the Central Coast are stepping up and into the spotlight at their regional ceremony for the 2022 NSW Volunteer of the Year Awards.
From box office ticketing and meal deliveries to patient care and bike riding tutoring – the Central Coast volunteers are covering all bases for their local community in 2022.
Special congratulations to our award winners, Jade Harrison from the Cerebral Palsy Alliance, Naughty Noodle Fun Haus co-founder Juan Iocco, wrapper, packer and driver from Meals on Wheels Central Coast Al Wright, rugby league coaching veteran Edward Johnson and the multi-talented volunteer team at the Central Coast Local Health District.
Al Wright is the 2022 Central Coast Volunteer of the Year.
2022 NSW Volunteer of the Year Award recipients for the Central Coast region:
Young Volunteer of the Year – Jade Harrison from Tuggerah
Jade Harrison is an HSC student who has been volunteering with the Cerebral Palsy Alliance since she was 16, helping children with Cerebral Palsy to ride bikes and assisting with their intensive therapy.
The aspiring medical student contributes to the bike riding clinic by creating resources and at-home games and supporting children with balance, safety, encouragement and running games during group sessions. Jade also assists therapists by supporting children with play and social skills, gross and fine motor skills, planning, thinking and problem-solving.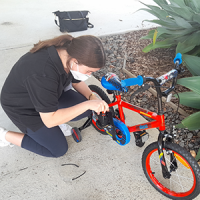 Adult Volunteer of the Year – Juan Iocco from Umina Beach
Juan is a co-founder of the Naughty Noodle Fun Haus and has given his time to help grow it into one of the Central Coast's leading contemporary arts and culture organisations.
The volunteer board member provides as much as 60 hours of volunteer support each week in a wide range of roles including offering his expertise in innovation and technical know-how in data, web development and financial acumen.
He supports a team of 170 volunteers and helped to raise around $60,000 for the region's first LGBTIQ festival as well as coordinating volunteer work for ticketing, book keeping and office administration.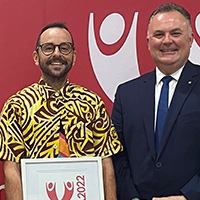 Senior Volunteer of the Year – Al Wright from Hamlyn Terrace
Al has been a valued Meals on Wheels meal deliverer for the past eight years, travelling as much as 40 kilometres a trip to make sure his clients get a healthy meal and the extra benefit of a friendly chat.
He helps to pack, wrap and deliver gifts and seasonal treats to clients in his own personal time, as well as attending voluntary education courses.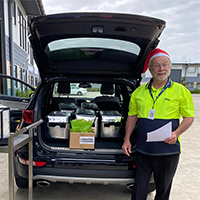 NSW Club Volunteer of the Year – Edward Johnson from the Central Coast Leagues Club
Edward Johnson has been volunteering at the Gosford Kariong Rugby League Football Club since 1976.
He has given his time as a coach, manager, president, vice president and committee member helping to teach young people on the Central Coast to build self-confidence, give them the opportunity to work in a team environment and to help build up their own physical skills.
Volunteer Team of the Year – Central Coast Local Health District Volunteers
The 134 Central Coast Local Health District volunteers provide invaluable support to patients and medical staff in the local public health system. This includes sorting mail, restocking and freshening flowers, making coffee and tea and welcoming visitors.
They work alongside staff to help free up time for patient care and support, provide a personalised wig-fitting service for people undergoing cancer treatment and help during mealtime.
Behind the scenes, they do mailouts, collate information packs, enter survey data, tidy store rooms and sort supplies as well as delivering hundreds of patient fiddle blankets and comfort and distraction packs.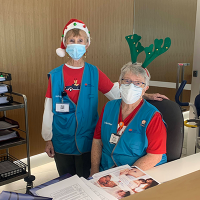 Regional finalists for the awards are announced at 25 ceremonies throughout NSW and are invited to the Gala State Ceremony for the announcement of the 2022 NSW Volunteer of the Year.
The 2022 NSW Volunteer of the Year Awards are supported by principal partners the NSW Department of Communities and Justice and ClubsNSW, which represents the state's 1,400 not-for-profit clubs.