It's been a tough 18 months for everyone in North Western NSW. So, it was wonderful to celebrate with local volunteers today at our virtual New England ceremony for the 2021 NSW Volunteer of the Year Awards.
Special congratulations to our award winners, the amazing Gretel Kempster, as well as Michael Kean and the entire volunteer team at 2ARM FM community radio. And thankyou to all our nominees! Volunteers are the heart and soul of the communities across North Western NSW.
Gretel Kempster is New England/Northern Inland 2021 Volunteer of the Year.
2021 NSW Volunteer of the Year Award recipients for the New England region are:
Senior Volunteer of the Year – Gretel Kempster from Armidale
Gretel has been leading classical music courses for U3A since 1992. The sessions include notes and morning tea provided by Gretel in a special music room at the family home. Gretel has always been an active participant in the Armidale community, she has served on the Musica Viva Armidale Committee from its beginnings in the early 1980s and captained the Armidale Golf Club. After a COVID hiatus last year, and at the age of 91, Gretel restarted the much-loved sessions of recorded classical music, prior to the latest COVID safety measures.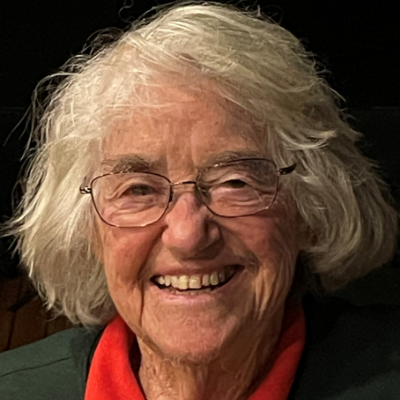 Adult Volunteer of the Year – Michael Kean from Black Mountain
Mike Kean is the Deputy President of the Management Committee for Armidale Community Radio 2ARM FM. He has improved the quality of on-air presentation by replacing and upgrading the aging studio equipment, updating the station website and introducing social media channels. Mike kept the station going during lockdowns, helping it become an important source of information and feedback for the local community.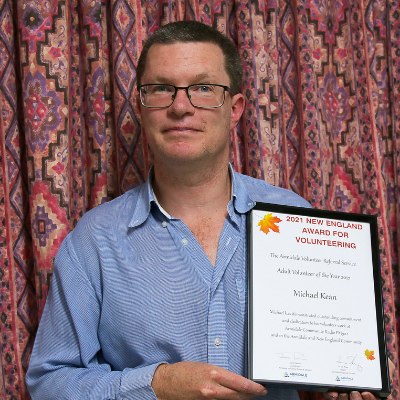 Volunteer Team of the Year – Armidale Community Radio, 2ARM FM
2ARM FM has been broadcasting for over 42 years to Armidale, Walcha, Uralla, Guyra and all areas in between. 2ARM FM has aired continuously since its inception and is almost completely run by volunteers, including 32 announcers. In the last seven years 2ARM FM has boosted locally generated content by 30%. Since early 2020 the station has played a pivotal role in keeping the local community up to date about COVID-19.