We just love the volunteering spirit that's on display across every corner of the NSW Central Coast. It's not unique to the region, but it does make it an extra special place, helping to build a healthier and well-connected community.
Today we celebrated the region's volunteers – young and old and everyone in between – at the 2020 NSW Volunteer of the Year Awards Central Coast regional ceremony.
Special congratulations to our award winners; Year 10 student Jackson Lantry, the founder of Jopuka the artistic Joshua Maxwell, the young at heart BlowFly volunteer Pat Guild and the team at Shelly Beach Surf Club – our guardians on the sand and in the sea.
The 2020 NSW Volunteer of the Year for the Central Coast is Joshua Maxwell.
2020 NSW Volunteer of the Year Award recipients for the Central Coast are:
Young Volunteer of the Year – Jackson Lantry from Woongarrah
Year 10 student Jackson Lantry is a prolific volunteer for someone so young. He has put in more than 100 hours of volunteering each year for the past three years assisting Coast Shelter, Relay for Life, White Ribbon Australia – as well as coaching his local soccer team, providing weekly breakfast at the College's Breakfast Club and volunteering at the Oasis Youth Centre in Wyong.
Adult Volunteer of the Year – Joshua Maxwell from Berkeley Vale
Joshua has been a driving force behind the Central Coast artistic community for the past 14 years. The volunteer theatre producer has racked up 30 productions. He founded Jopuka – the coast's youth arts company where he is a volunteer director; and was this year's Central Coast Citizen of the Year for Arts & Culture.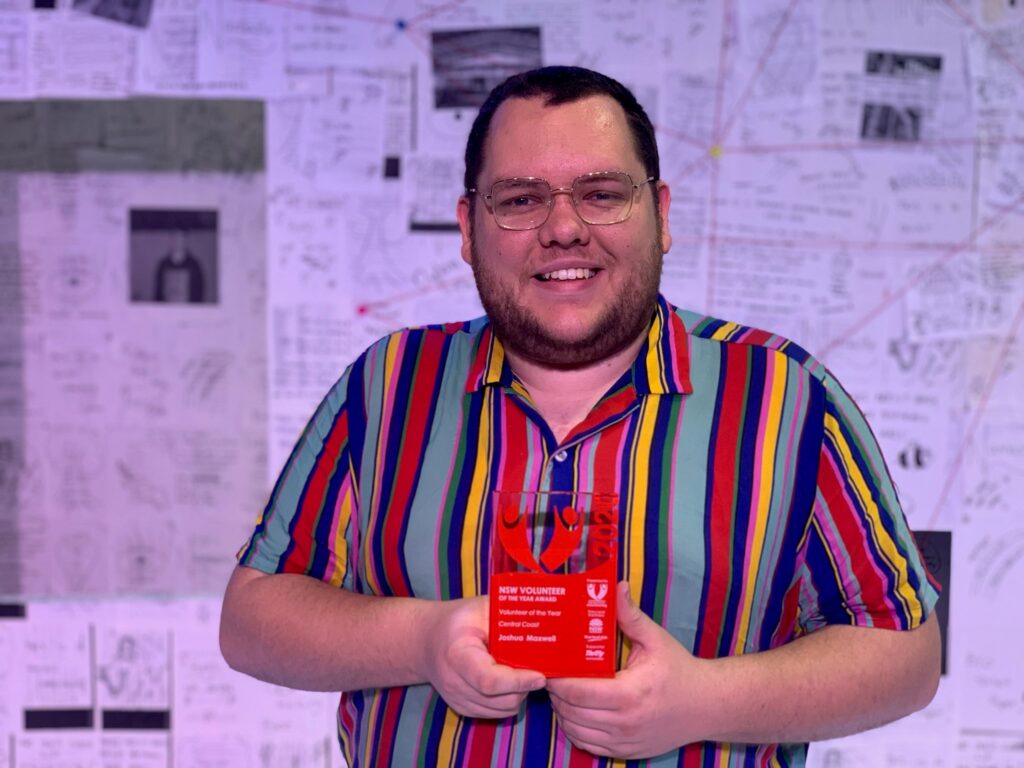 Senior Volunteer of the Year – Pat Guild from Umina Beach
Pat has been volunteering with BlowFly Cricket for the past 11 years. BlowFly Cricket was established to enrich the quality of lives of all ability children/young adults who have special needs or intellectual disabilities by providing a summer sport to be played with their peers. Pat has helped on the field, with fundraising, in schools and as a qualified coach.
Volunteer Team of the Year – Shelly Beach Surf Club Volunteers
With 537 volunteers the Shelly Beach Surf Club makes a massive contribution to its local community. The team includes patrol members, Nippers Age Managers, trainers and board rescuers. They collectively provided more than 5,600 volunteer hours over the past 12 months helping to keep beaches safe and educate beach goers.
Regional finalists for the awards are announced at 25 ceremonies throughout NSW and are invited to the Gala State Ceremony for the announcement of the 2020 NSW Volunteer of the Year.
The 2020 NSW Volunteer of the Year Awards are supported by principal partners the NSW Department of Communities and Justice and ClubsNSW, which represents the state's 1,400 not-for-profit clubs.