2017 NSW Volunteer of the Year Award Finalists
Volunteer Managers and corporate volunteers who make a contribution to the not-for-profit sector (NFP) were acknowledged today at the 2017 NSW Corporate Volunteer of the Year awards. The awards were held at NSW Parliament House and those selected as finalists will go through to the 2017 NSW Volunteer of the Year Awards in December.
The Award finalists are
Excellence in Volunteer Management
Mary Leehane Volunteer Manager for Far West Local Health District in Broken Hill
Alex Rixon-Booth, CEO of I Need Helpers
Outback Links, Frontier Services
Corporate Individual
Robyn de Szoeke, from Deloitte Australia and volunteers with Dress for Success Sydney
Len Gallo, from Inflower at Ryde and volunteers for Royal Rehab
Leanne Rix from Greater Bank in Newcastle, who volunteers for Camp Quality
Corporate Team
Salesforce for Dress for Success Sydney
NRMA for Outback Links
VM Ware for Raise Foundation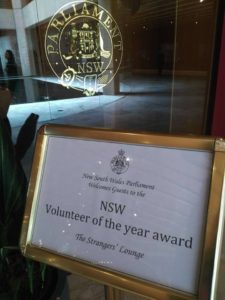 2017 Volunteer of the Year Awards
Collectively, through their concerted volunteering efforts, both small and large corporations have substantially boosted Australian community partnerships. Chiefly, their active contribution to NFP organizations has been substantial, providing a remarkable $7.7 billion. This showcases their deep dedication to the development of the community. Additionally, in a move to intensify support for communities and NFPs, nearly half of all businesses, or 46%, have taken a bold step forward by launching formal programs.
The NSW Volunteer of the Year Awards are the most prestigious awards for volunteering. The annual program run by The Centre for Volunteering recognises the outstanding work of volunteers in every region across NSW. The Centre hosts twenty award ceremonies covering the whole of the state. At these ceremonies, we recognize nominees and present them with certificates for their contributions. Regional and corporate winners advance to the 2017 Volunteer of the Year final.
For more information about the 2017 NSW Volunteer of the Year Awards visit our Awards Honour Board.
About the Volunteer of the Year Awards
Gemma Rygate, The Centre for Volunteering's CEO, asserted that the value of employees' donated skills can surpass cash contributions."It benefits corporate staff development and enhances charities' expertise. Outstanding volunteer managers play a crucial role in maintaining positive experiences and enabling essential work. They help retain, grow, develop, and recruit volunteers, enabling essential work to continue."
The Awards Patron, the Minister for Multiculturalism and Minister for Disability Services, the Hon Ray Williams said volunteering was a way for businesses to invest in their local community. Individual volunteers and the corporate sector actively give back to the community through excellent volunteering efforts. The awards acknowledge volunteers' essential work and corporate managers' vital role in recruiting and developing them. The NSW Government proudly supports these awards, valuing their social and economic impact," he said.
ClubsNSW CEO Anthony Ball said the club industry was proud to be Principal Partners of the NSW Volunteer of the Year Awards. "On behalf of our 1200 member clubs, we are very proud to support this Awards program which shines a spotlight on the 2.3 million volunteers in NSW. Clubs across NSW rely upon over 40,000 volunteers to assist in their operations to provide services to members and their local communities. Through a myriad of opportunities, volunteers in the club industry dedicate over one million hours of their time per year, and we are incredibly proud of the part they play in building and strengthening our local communities."
2017 NSW Volunteer of the Year Award Partners
The NSW Department of Family and Community Services, ClubsNSW, Bupa Aged Care, Etchcraft, and Thrifty Car and Truck Rentals generously support the Volunteer of the Year Awards as principal partners.
2017 NSW Volunteer of the Year Award Ceremony Photographs
Photos by Michael Mannington | Photographer  can be found here (photo credit: Michael Mannington | Photographer | www.volunteerphotography.org),
Photos by Susan White can be found here (photo credit: Susan White | Professional Photographer) and here.